I first discovered Toys for a Pound last year, I am a huge bargain hunter and love being able to get the kids stuff that they will love, but for a bargain price. When I


I first discovered Toys for a Pound last year, I am a huge bargain hunter and love being able to get the kids stuff that they will love, but for a bargain price. When I first went through Toys for a Pound I was pleasantly surprised, it wasn't just plastic tat like your average high street pound store has to offer, but decent brand names such as Shopkins, Care Bears, My Little Pony to name just a few of the names I have picked up over my time as a customer. So when Toys for a Pound got in touch asking me if I could see what I could buy with £60, I jumped at the chance, with four children to buy for, I knew I could get some bargains and have Christmas wrapped up and I am a genuine fan and existing loyal customer of the website so really can shout about it and recommend it to my readers.
So here is my haul…please note that some things are not available on the website at the moment, this is because the bargains are so good, they are super quick to run out of the door, so you have to grab them when you see them on there! Rest assured I ordered everything you see in this picture.
A great thing about Toys for a Pound is that they now include some more expensive toys that are £2, £3, £4 and the highest being £5. Everything is clearly labelled online with the price and you can filter the toys by price so no nasty surprises of how much things cost.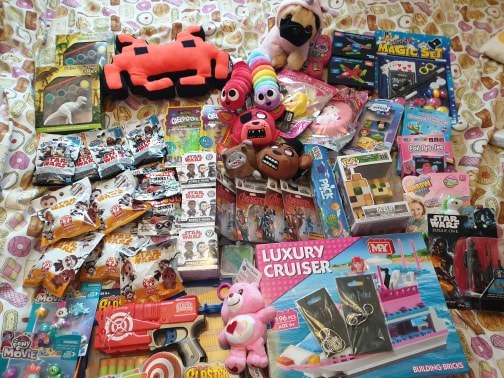 £1 toys
I bought SO many things for £1 each, but here are a few highlights…
Star Wars Blind Bags, a huge huge bargain! My son is a mega fan, and these mean he has a stocking of stuff he will love. I managed to get my hands on Mystery Mini Plushies and Star Wars Micro Force figures. Also Star Wars Funko Bobble-heads, these are a huge collectable brand and my teens adore them, you will not find them for £1 anywhere else!
My Little Pony Movie Playset – these super cute sets include a figure and accessories.
Slither-io soft bendy snakes- perfect for stockings, they are bendy and the iconic game is a favourite with children, so these will go down a hit.
Crystal Bricks – a building brick set, not branded but SO much cheaper than the original and a funky difference that they have see through bricks.
Disney Emoji Chat Packs, these figures are collectable and anything with the Disney name is normally expensive, I have bought these packs full price from toy shops for my daughter at £8 before I knew I could get these for £1. They come with a blind emoji figure included too.
Disney Princess Squishy Palz squishy toy, 10cms tall, these are branded merchandise and kids seem to adore squishies.
Space Invaders Beanies Cushion, this is one I am tempted to steal myself…a great size, soft and such a bargain for £1!
I bought so many more things for just £1 each, including Paint Your own Dinosaur figures (they come with paints and paint brushes too!), Five nights at Freddies Funko Soft toys, Marvel Comics Nano metal figures, even a super cute Itty Bitty! Plenty to keep the kids amused over the holidays.
£2 toys
Harry Potter The Carat Shop Necklace Acceptance Letter, my 15 year old is a huge Harry Potter fan and I know she will ADORE this necklace. I also ordered the Harry Potter Silver Charm Bracelet, again such a bargain for £2!
£3 Toys
Air Blaster Soft Dart Gun, yes this is just as good as Nerf in my opinion, but at a fraction of the cost.
Care Bears Plush Bag Clip, my 6 year old loves Care Bears, so I couldn't leave this behind, she will LOVE finding it in her stocking on Christmas morning.
My Blocks Luxury Cruiser. This whopping set has 196 pieces, it's generic building brick size so fits with the top brands too, but is such a bargain for £3, would make brilliant Birthday presents for parties too!
£5 Toys
Funko Pops! Toys for a Pound have a huge range of Funko pops, and £5 is such a bargain price as these start at £10 each in shops. They are hugely collectable (mostly by my teens!!) but I know my 9 year old Minecraft mad son will love this official Minecraft Ocelot figure
Girlie Paws Unicorn Onesie Pug toy, this soft toy is 8 inches tall and is SO soft. As regular readers will know, we have a pet Pug and my children adore Pugs as a result, this is going to make my 6 year old a happy Pug lover. The quality is fantastic, it's not a cheap toy, the stitching is great, it has soft material that I would expect from a much more expensive soft toy. If you have a pug lover to buy for, you won't be disappointed in the quality of this cute fella (or gal…)
You can check out what's available now at www.toysforapound.com and even download the app, and that way you are kept updated with new products as soon as they are added.
*we were provided with the products featured for the purpose of this review, all thought are my own*