Coding is the language of technology, our present and most definitely our future. Coding is used to build all apps and programs and being able to grasp the concept of how it all works, right from the beginning is key to be a brilliant coder. I have made sure that my children have been bought up with the concept of coding, and having a real emphasis on STEM education(science, technology, engineering and mathematics) but finding something age appropriate is sometimes really tricky. Well, John Adams has come up with a solution, the Action Science Power Tracks.
Suitable from just age 5+, this has everything you need for a complete beginner, right up to the more advanced of young children. Included in the box is Volty the Robot, 10 double sided circuit diagram cards, 40 command cards and 22 double sided jigsaw circuit cards.
First up, you will need 3 x AAA  batteries to get Volty to work, along with a small philips screwdriver. But once they are installed you are ready to go! Volty has a cute smiley face, making him instantly welcoming to children.
The controls on Volty are easy, with buttons that are self explanatory and an LCD display to show what you have pressed.
So to build your circuit, you just need to pick a diagram card for the track that you want to make. Each diagram card has the instructions on for which jigsaw pieces you need to create the right track. This is where the small command cards come in handy, you line them up according to the circuit diagram, then you have a list to work through to input into Volty.
Programming Volty is literally childs play, just press the'Program' button (the arrows) and then press the buttons according to the command cards and press the tick once complete. You then place Volty on the battery jigsaw card and press the tick again and he does exactly what you have coded him to do.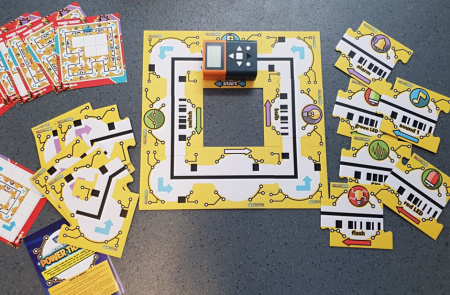 Starting off with the easiest circuits is great, as it gives you an idea of the basics before you jump into something a lot more complicated. What I love about this set is the ability for it to amuse a range of age of children. My 5 year old can do the more basic ones while my 8 year old loves being able to try and create the more complicated ones which have more features including LEDS and sound.
Here is a shot of Volty in action when I tried to code him…I definitely need some lessons from my 5 year old!!
You can buy your very own John Adams Action Science Power Tracks from Argos for £29.99
We were provided with the product mentioned for the purpose of this review, all thoughts are our own.