When my first two children were born, I was adamant they would have a Birthday Party every year without fail. Growing up I never had a party, and was always envious of others who had
When my first two children were born, I was adamant they would have a Birthday Party every year without fail. Growing up I never had a party, and was always envious of others who had fun parties. But after a few years, the novelty of huge extravagant parties wore off very quickly. But this year my youngest is adamant she needs a huge party, and as she has never had one, I'm gonna give it a go again!
So what do you need to organise a party, a venue is the the most important thing I think. It needs to tick all the boxes, it needs to have easy access for parents dropping off and picking up, a car park is handy. There needs to be adequate seating available, with enough chairs for all the children to sit down, and any parents who might stay too. Tables are also needed, especially if you have any activities you are planning on including as part of the party. A kitchen is also handy, somewhere to store the cake and party bags until they are needed. Oh and the biggest need, space for the party. If you are having a bouncy castle you need to make sure there is electric sockets, and ample room height too.
Picking an activity for a party is always hard, you want something that all the children can enjoy but especially making sure it's something that the birthday boy or girl loves too. I personally find picking something that the Birthday child likes it easier, with a few other smaller activities like colouring or craft on the side for others who might not enjoy it. There is so many different activities you can hire nowadays, from the good old bouncy castles and magicians, who used to be around when I was a child. There is even farms, reptile encounters and children's entertainers of all types, you name it you could probably find it nowadays. My son had a Go-Kart party for his 6th Birthday, and they bought along an inflatable track and Go-Karts for all the kids, with medals for everyone it went down a treat. But what I have learnt from my 15 years of parenting, is that you don't need to spend a fortune on activities, sometimes just something simple can be the most interesting. My kids have been to extravagant parties, and also not so extravagant, they always have a great time and come home having had a great time, the most important thing is that they are in great company with their friends and that makes for an awesome party.
So what else does a party need? Cake. Again, there is huge variations of cake available nowadays and it's so easy to pop along to the supermarket and grab a cheap tray bake, easy for cutting up into slices for party bags. You could get creative and bake your own cake, but just make sure allergy sufferers are covered.
Food…so what do you feed the kids? Do you feed the adults too? It can be so tricky to know what to do, but remember there is no right or wrong thing. Personally in my experience, ordering McDonalds was a terrible idea of mine, they ended up messing up the huge order and there was a few upset kids, and not being at McDonalds meant that there was no way of being able to replace or make it better. I have been to a party were the parents took a chip shop order at the door on the way in, sausage or chicken nuggets etc, and she then sent someone out to collect the order from the same street, that went down well. Last year my niece had a party where there was fruit platters and pizzas delivered, it went down great and no washing up or cutting sandwiches into triangles needed. I think the most important thing is to ask if there are any special dietary requirements, and plan from that. My daughters best friend in primary school couldn't have any Gluten, so picking up a pack of GF cupcakes from the supermarket kept her happy and included in the party celebrations. There is such a huge range of allergy friendly food nowadays, it should be easy to cater for everyone's needs.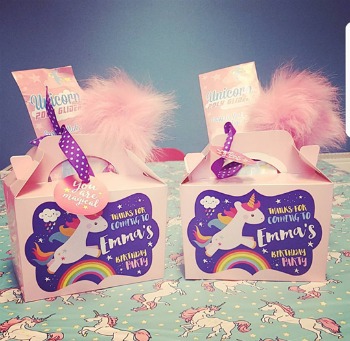 What else do you put inside the bags? Well I think it depends on what age the guests are, for babies a little board book always seem to go down well. For toddlers a small squeaky toy. For older children then the world is your oyster, some cheap toys from a pound shop and a few sweets. Of course you could go all out and do something very expensive or elaborate, it really does depend on your budget. I truly believe that no matter what your budget, you could have an amazing party that kids will remember for life.
The products featured are from OrangePaperDuck on Etsy