McDonalds, people seem to love it or hate it, but why? There has always been myths surrounding the food, and McDonalds have been working hard recently to try and dispel those myths with their advertising
McDonalds, people seem to love it or hate it, but why? There has always been myths surrounding the food, and McDonalds have been working hard recently to try and dispel those myths with their advertising campaign. From telling the world that their nuggets are 100% chicken breast, to revealing there is 100% beef in the burgers.
Many years ago, 15 to be exact, I used to work at McDonalds. It was a great fun job for 16/17 year old me, working with a team who were all like minded, I made some friends for life. So when I was invited down to see what was new at McDonalds, I couldn't say no, I had to see if anything had changed.
I was expecting a few changes, but what I found was something so fresh, so different and works so much better for customers to get a great experience.
Walking into McDonalds, everything has been refurbished and has a very fresh feel to it. The change is huge, gone are the long queues and cashiers. Instead you will find self-serve kiosks for ordering your food. With these you can browse the whole menu without the rush of being at a checkout with the staff member waiting. There is even an option to change the mode of the screen to enable children and wheelchair users to be able to reach everything. Paying is easy, with contactless, androidpay and apple pay too. There is however no cash option, but there is still a traditional cashier in every store still and hopefully with the use of the self serve checkouts there won't be a huge queue anymore.
One of the huge changes is the new table delivery service. When you place your order on the self-serve kiosk, you can choose which zone area of the dining area you wish to sit. Then simply complete your order, sit down and it's brought out to you by a friendly customer care assistant who is there to make sure your visit is a good one. They can bring you everything you need, including sauces, straws and napkins. They are dedicated to making sure each customer has a great experience.  It is a great facility to have, especially for families who need to stay with the children rather than queue and wait for their food.
Alternatively, you can choose to takeaway and simply watch the board for when your order is ready to collect from the counter.
You will also notice, there are now tablets for the children to use too. These are pre-loaded with appropriate games and filter software, so you can be sure that children are not being exposed to anything they shouldn't. I was also pleased to see both the self serve kiosks and the tablets being wiped over regularly by the staff members with antibacterial clothes.
So what about behind the scenes? Back just a few years ago, as a customer you would walk in and place your order for food from the static menus, and it would be picked from the holding cabinet. If you asked for something different, you would have to wait for it to be specially made. But that has all changed. There is now digital menus, showing you the latest promotions and also every single burger, sandwich or wrap is freshly made from when you place the order. This makes so much more sense for everyone involved, but especially the customer who always gets freshly prepared food exactly how you want it.
So what about the food that's going inside it? Well I was shocked to see their fridge was not as full as I thought it would be. The reasoning behind this was explained to me, they have fresh stock delivered daily, 7 days a week. They only use fresh free range eggs, and organic milk. Impressive!
Walking inside the kitchen, we got to see the staff at work. From a behind the scenes perspective, you can see how when a customer places their order, it appears on a screen inside the kitchen. This has details of how they want it, so it really doesn't matter if you want to change anything or everything about a burger. This is then freshly made, including toasting the bun, dressing it to order, a label is stuck on the outside so they know which one is which, and then it is delivered to the customer. The end result is a customer with freshly made food to order, and staff who are only producing the food they need to, so there is no waste. I got to make my very own Big Mac!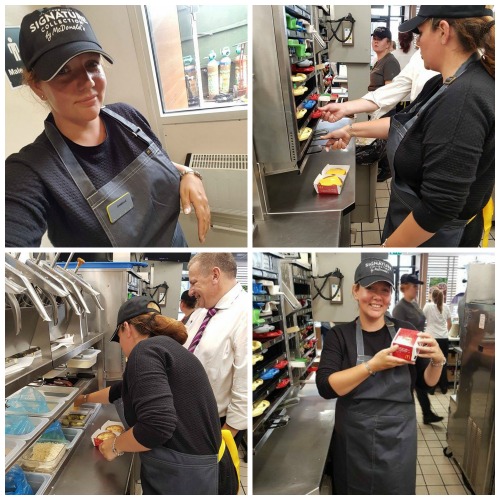 Finally, the food experience. I am a huge fan of McDonalds food anyway, but am personally more of a chicken nugget girl than a burger girl. But trying out their Signature range, I was shocked by how much their burgers have changed. The new signature range has brioche buns, a really different but impressive premium meat patty inside, and fresh and exciting ingredients, such as pepperjack cheese and even coleslaw to name a few.  The whole experience of the Signature range is different from the mainstream burger range. inside the premium box is your premium burger and even a paper holder for the burger. You can tell it is something new and different as soon as you receive it, and it's a welcome change for me.
As you can tell, the change was huge for me to see. The passion of the staff was clear to see, they care about their customers and want them to have the best experience possible. Gone are the days of getting a warm burger from the holding cabinet, it's now fresh produce which is freshly made. I love how the system works now and it has given me so much faith in McDonalds as a company, so much so, that I am happy to recommend them to my readers and even take my own family. McDonalds have really revolutionised the whole McDonalds experience for the better!
For more information on the McDonalds revolution check out www.mcdonalds.co.uk  A huge thank you to the Milton Heights McDonalds team for inviting me into their store.
This is a sponsored post