As huge LEGOLAND Windsor fans, we have been to visit the park at various times of the year. There is blog posts you can find on my blog which include 'Why we love LEGOLAND', 'LEGO
As huge LEGOLAND Windsor fans, we have been to visit the park at various times of the year. There is blog posts you can find on my blog which include 'Why we love LEGOLAND', 'LEGO Friends Heartlake City', 'LEGOLAND Star Wars Miniland', and even 'Brick or Treat' for Halloween and Fireworks. But the one time of the year that we hadn't been to the park was Christmas. That all changed just before Christmas, we were invited down for Brickmas.
Yes that's a LEGO Christmas Tree! 
Entering the park it was totally transformed, it was a complete winter wonderland with realistic snow and many LEGO builds of winter characters. Now it is worth mentioning that not all the rides are open, but there is plenty of rides to keep you amused. To get down to the main park there is no walk needed, you walk through to the transformed Hill Train, which is the Santa Express, complete with real elves and decorated train. The whole buzz of the staff and surroundings made it really magical. The children were given their own LEGOLAND passports, and the adults got a handy voucher to redeem later in the park for a hot drink and cookie. Included inside the Passports are all the rides and activities you can see and do, a scavenger hunt around the park and a gold ticket to redeem for your Santa's Grotto gift.
It is worth noting that when you purchase or collect your tickets you get an allocated time to visit Santa, it's important to keep this time handy. I arrived for our allocated slot and was ushered through a maze, again all the surroundings made the whole experience very special…as you can tell by this photo that was captured of me…
I was concerned with a queue, as my eldest son (and younger son is undergoing testing too) has ASD, but the queue didn't really stop, it was just a slow walk though the woods. Once you get to the front, an Elf whisks you off through a maze of Christmas Trees and you arrive at Santa's Grotto! (I would like to reassure parents that there may be a few of these hidden grottos, to cut down queuing time, but you wouldn't know unless you are over 6ft…). But the whole experience was totally worth it.
Inside Santa's Grotto was a real fantastic Santa, he was great with the kids, patient with my ASD kids, giving them time to speak and answer his questions. The children then got a LEGOLAND Christmas treat to take home in a special Christmas LEGOLAND bag. Finally, a picture was taken by the official photographer, which you can buy on the way out.
The kids came out absolutely ecstatic that Santa knew their names, how chatty and nice Santa was. But the fun wasn't over there, there was plenty of rides to go on, mulled wine for the parents to drink with the free voucher, and even some great Christmas activities laid on by LEGOLAND. You could write your own letter to Santa on the funky paper provided, or colour in some cards, again LEGOLAND themed! There was even a big build going on that you could join in too.
Finally, the last thing I must tell you about was Mrs Christmas Toy Shop.
We had to queue for entrance, but it went quickly. Inside you get all the pieces to make your very own LEGO snowflake tree decoration to take home! The kids adored it…
It was a great day, I was concerned the kids might get cold, but the whole day was such a buzz, we wrapped up well and it was thoroughly enjoyable, none of us even mentioned being cold as we were having too much fun. It was a totally magical experience that I would definitely attend again.
You can book your own LEGOLAND Windsor Christmas tickets now for a super low price of £25 per person (if booked before end of January 2017) which includes Santa's Grotto. Book yours now at www.legoland.co.uk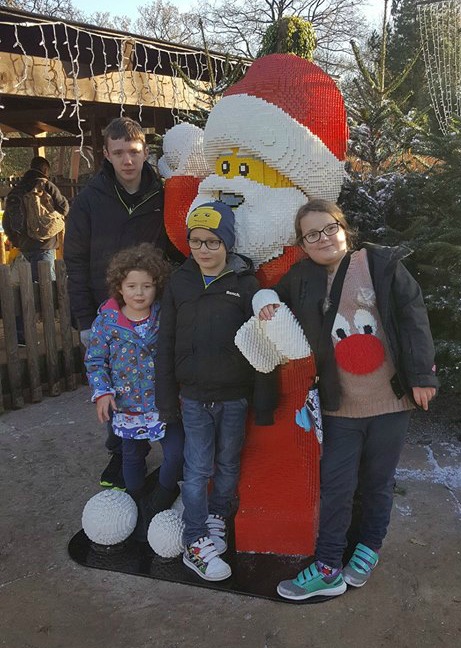 We were 2016 LEGOLAND Windsor Family Ambassadors, we were provided with entry for the purpose of this review, all thoughts are our own.