I won't lie, I am a creature of habit. Last night it was cold, wet and getting dark. But we done something out of my comfort zone, we went out for dinner as a family.
I won't lie, I am a creature of habit. Last night it was cold, wet and getting dark. But we done something out of my comfort zone, we went out for dinner as a family.
Don't get me wrong, I love going out for dinner, but as a mum to four children it can be so stressful that I often fall into the trap of staying at home instead, or leaving the kids behind with Granny. This time I was going to brave it, and a 5pm reservation at Pizza Express in Witney was my plan instead. It is our local Pizza Express and I have eaten there a few times with a few of the children, but never all four, was this brave or just stupid?
Walking in I was put at ease straight away, we were shown to our table and the children were provided with activity packs and crayola twistables to colour in.  The activity packs include a double sided activity packs with games, colouring, stickers (bemma's favourite) and even a hat to decorate and wear.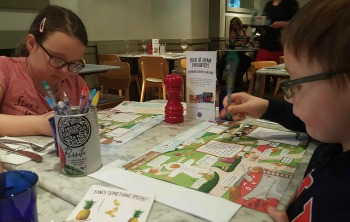 For starters I went for Doughballs Fromaggi,
And an amazing Anti Pasto platter which was filled with olives, roasted tomatoes, Italian meats including Finnochiona, Coppa, Milano salami and spicy Calabrese sausage, buffalo mozzarella, marinated aubergine, sweet Pepperdew peppers and dips galore.  It was a real explosion of flavour and it all complimented each other so well.
The children all had doughballs to start too. So there I am sipping on my Limonata, and I realise that I hadn't even had to turn the iPad on, the children were happily amusing themselves with the activity packs and enjoying the food and great atmosphere, yes all four children were content!
I love the kids 'Piccolo' menu at Pizza Express, you get three courses for £6.95, which is a steal as dessert also includes a 'Bambinoccino' too. All three children had doughballs and salad to start, which was fasinating to watch my three year old delicatly dip her doughballs in her butter, while my 6 year old preferred to use his knife to spread his butter on his doughballs. This is what I love about Pizza Express, it is relaxed enough that your children can make their own minds up, eat the way they like and just enjoy being children too. For mains the children get to chose from Pasta or Pizza. Brooke had bolognese pasta and Mark had American Pizza (Pepperoni). Bemma went for 'Bianca' pasta, which is Béchamel sauce and mushrooms. The proof of how good these were, were all seen in the empty plates and bowls. Jordan being a 13 year old 'man' had a whole main menu Americano to himself…and yes, he ate it all.
I decided to have the new Hawaiian pizza. The new Hawaiian has prosciutto crudo and sweet chilli pineapple chutney on a béchamel base rather than a traditional tomato base. It was cheesy, had red onion, garlic oil and a lovely tang of pineapple too. It was a real taste experience and a brilliant twist on your typical Hawaiian you get elsewhere.
Dessert was cappuccino and a 'Chocolate Glory' which was all of my favourite things in one glass….chocolate fudge cake, chocolate sauce and ice cream, finished with a chocolate straw.
The children all chose to have ice cream for their desserts, they had the choice of sauces too, and I loved that the waiter took the time to speak to the children, ask them what they wanted, nothing was too much trouble for him.
I am so pleased I done something out of my comfort zone, we had an amazing evening and the children all enjoyed it. It is the perfect family venue, the staff were amazing and friendly and the food was impeccable. A thoroughly good evening and definitely something I shall be doing more often. Thanks Pizza Express!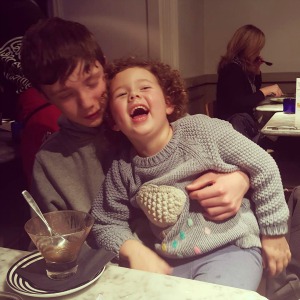 We were provided with the meal for the purpose of this post, all views and thoughts are my own.