We have been massive Cloudbabies fans, since we met the creator back in 2012. It is a delightful program which children have been adoring since.
Now here we are on 2015 and the release of the very cute 'My first Cloudbabies'. They are available in all of the favourite characters, Baba Green, Baba Yellow, Baba Pink and Baba Blue. We were sent a Baba Pink for review. Later this year there is going to be a Bobo White, so keep your eyes peeled if you want to collect them all.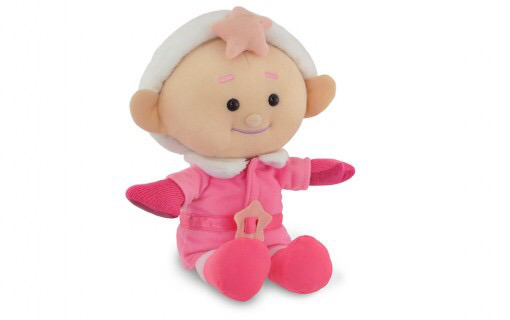 The My First Cloudbabie is more than just a soft toy, although it is a very nice one. It is well made, the seams are strong and I have no fear of it falling apart with my young toddler. But the fun doesn't stop there, open up Baba Pinks jacket and there is a cute mirror to discover too. Baba Pink really is a cute soft friend that will become your Cloudbabies fan, new best friend.
The RRP is £19.99 and they are available from the Cloudbabies Store.